Note: Before you create ASN please make sure that your
SKUs
were approved by Fulfillmen team
Step 1 : Click ASN then click NEW as bellow


Step 2: Please fill the bellow form then click SAVE

Warehousing classification
*
:
Arrival warehous logistics
*
:
预到仓时间
*
:(Approximate arrived time)

Note: 1. "Warehouse" please chose BestW.

2. Those mandatories please fill all with correct info
Step 1: Input the product details that you are sending to Fulfillmen warehouse.



Note: How many cartons are needed to load the SKU then input the carton No.
Step 2: Input the Quantity , click Add then the SKU will add to the list, as shown below.



Note: If more cartons for defferent SKUs you can repeat the actions above
Same SKU in different cartons and same Quantity
Step 1: Click 批量(Batch Add) then Add in bulk, as shown below.

Step 2: Input cartons and product data bellow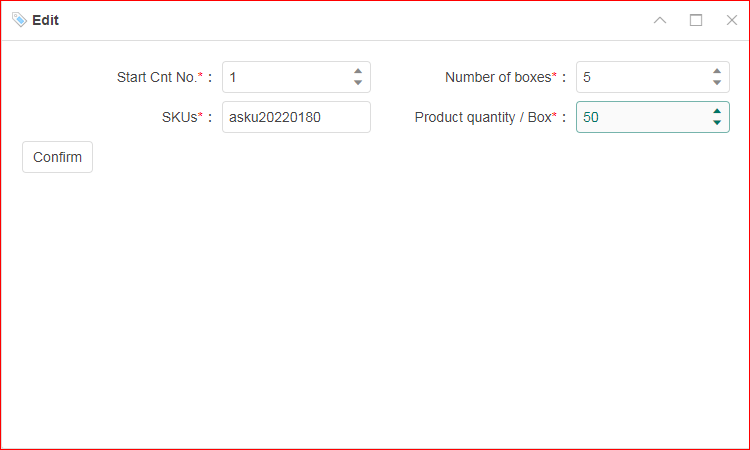 Create multiple SKUs and cartons in batch
Step 1: Click 批量(Batch Add) then Batch import, Download the template after finished upload the template.


Note: Click SAVE again after all above finished
Submit to inform Fulfillmen team

Step 1: Print out the carton labels and packing list, send these to suppliers to paste them on the cartons.

Step 2: Submit to inform our team that those cartons are heading to our warehouse.



Note: After all those finished you just need to wait for our team to process your the following step